IMPERIAL CLASSICAL BALLET
Ballet forms the basis for all other dance styles as it helps develop strength, posture, grace, co-ordination, muscle tone, technique and musical awareness.
Too much discipline can cause young children to lose interest and stop Ballet training and it's important not to put too much strain on young bodies. So, up to age 5, our emphasis is on having fun and developing imagination and musicality while improving posture and basic leg and arms lines.
From age 6, students are encouraged to work towards examinations which have been devised by the Imperial Society of Teachers of Dance (ISTD) and are regulated by an external examiner. These provide a sense of achievement for children and young adults who dance for recreation and for those hoping to pursue a career in classical ballet. Once a student has successfully passed their examination, they progress through grades, developing their technical ability and understanding.
An essential skill for the professional dancer, tap dance is one of the most enjoyable and rhythmic forms of recreational dance, making it very popular with children and adults alike! The ISTD have developed an excellent tried and tested examination process which trains students to become excellent tappers with a full understanding of rhythm, timing and musicality.
Students at Azure Theatre School can follow the ISTD syllabus and move through the grades as they achieve each standard. This is regulated by an external examiner.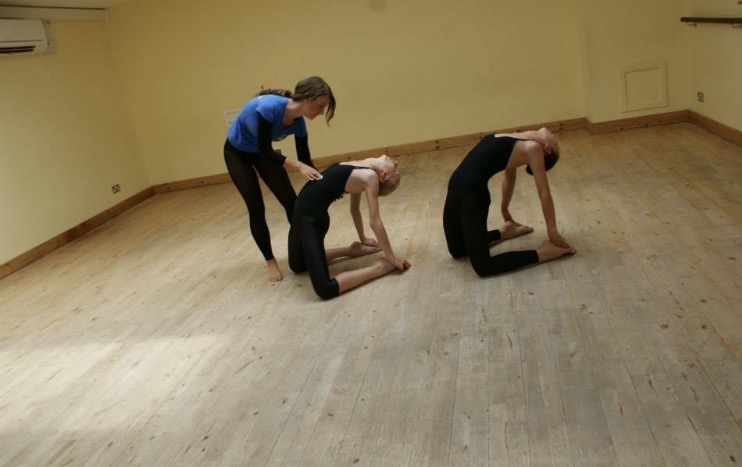 From age 4, children can begin to learn Modern Theatre Dance.
Modern creates a sense of discipline in a less formal environment than Ballet and students are encouraged to use their expression and musicality. Modern classes are an ideal opportunity for children to exercise regularly in a safe way. The genre combines modern dance, natural movement and jazz styles and the ISTD syllabus is adapted to follow evolving fashions in dance.
Through a carefully planned and well-tried examination syllabus, young people become disciplined and versatile dancers with a professional attitude towards dance.
In part, the Modern Theatre Syllabus has a separate syllabus for boys, making it an excellent way of encouraging boys into dance.
Learn the basics or work on advancing your skills in this flexible acro class! Acro is not the typical tumbling or gymnastics class. Our experienced acro instructor will guide the class towards increased flexibility, balance, strength, muscle control, discipline and concentration. We have specialist equipment including a tumble track, a variety of matts, spring boards and beams at all classes. This class will focus on fundamental acrobatic technique, teaching such skills as handstands, chin stands, elbow stands, cartwheels, back bends, walkovers, balance and contortion tricks right up to somersaults ariels and advanced tumbling, all to each student's individual level of experience. And it's fun, too!
These classes are fast and fun! We begin with an exhilarating warm-up followed by stretching to increase flexibility; students will then work on an up-to-date routine with varied current music.
These classes are designed to build strength and stamina whilst building creativity and confidence through improvisation and free styling.
For our youngest boys and girls, age 2-4, we offer 'Amazing Adventures' sessions.
In these classes the students learn basic ballet technique by imagining they are on an adventure. These creative ballet sessions are a perfect introduction to ballet before moving on to formal classes.
JUNIOR STAGE SCHOOL
This preparatory class is suitable for children aged 4-6yrs. The class focuses on building the confidence of every child and exploring creativity through the use of music and role-play. A perfect class choice for both those already aspiring to perform and express themselves and those who require sensitive and supportive creative development.
MUSICAL THEATRE CLASSES
We offer Musical Theatre classes for children aged 5 and up. These sessions are very popular as they encompass the three primary disciplines of Musical Theatre in one class; drama, singing and dancing.

Following our internal tailored framework, each child trains in all aspects of Musical Theatre to help them become a rounded performer.

These classes are an excellent way of improving confidence, developing new skills and making friends. They're also a great way for children to express themselves and burn off excess energy.
STAGE SCHOOL
Our 3 hour Saturday Stage School builds on our one hour Musical Theatre classes. Students are taught by experienced industry professionals who are experts in their creative subjects, helping them further their Musical Theatre training at a broader level. This class is suitable for children aged 7-18 years.

Whether they want to build confidence, learn or develop new skills, or have dreams of performing professionally, Theatre Stage School can make it happen.
GCSE Dance
Following the AQA syllabus, students have the opportunity to study this syllabus either in addition to their school course or as an additional GCSE with like-minded students in a small classroom environment, which will, in most cases lead to better results than in a school setting, the syllabus develops students' performance, choreography and appreciation of professional works.
Private Classes
One to one sessions with a qualified teacher in singing, dance or drama. Singing privates cover a range of genres from musical theatre to commercial helping to develop confidence, singing range, sight reading or prepare for an audition. Our drama one to one sessions offer the option of working toward LAMDA examinations improving diction, projection, improvisation, script reading, character development, support GCSE drama syllabus, acting for camera or preparing for auditions also. We also offer dance one to ones whether you would like extra time to work on class technique or preparation for competitions or festivals.
Adult Classes
Our adult sessions are fun and relaxed classes for adults to learn the above disciplines, whilst socialising and exercising.
Ballet is great for improving on posture, strength, balance and control. You'll learn basic ballet technique and learn to dance beautiful traditional classical ballet. Tights and leotards are not compulsory!
Tap out some rhythms to all different types of music, whilst improving your fitness and escaping from the pressures of everyday life. You can just enjoy learning to tap dance for fun or work towards an ISTD adult tap qualification.
Jazz is an energised class perfect for developing musicality, flexibility and muscle strength in a fun and positive environment. In these classes you will stretch and strengthen your muscles whilst dancing to a range of music styles from musicals to the charts.